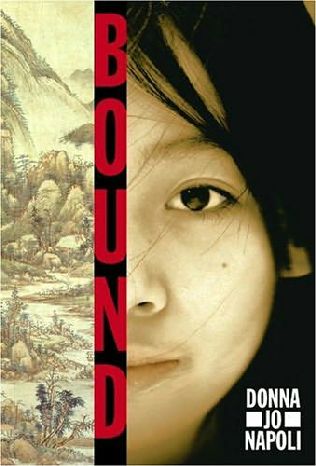 Bound
Written by Donna Jo Napoli
Published by Simon Pulse (2004)
Interest Level: 6th-8th grade (I also had success with high school students and college freshmen.)
Reading Level: Lexile-800; DRA-60; Guided Reading-W
Available in paperback, Kindle, or Nook
Prepare to be transported to China at a time when foot binding was common practice.
When Xing Xing's father dies, she is left with no one to look out for her. Instead, she is bound to a life of servitude to her stepmother and stepsister, with no prospects for marriage or a future. Yet this life does not prevent her from dreaming. She continues to practice calligraphy as her father had taught her and visits her only friend, a beautiful fish. Unfortunately, Xing Xing soon finds that even these small joys are threatened by her stepmother's greed.
Donna Jo Napoli expertly weaves together a tapestry of a historical period as we see Xing Xing moving about the cave where she lives with her stepmother and stepsister. We gain a sense of the horrific process of foot binding as Xing Xing changes her sister's bandages, along with the unabashed pride her sister feels. Bound feet are considered beautiful and may provide a path to upward mobility. For Xing Xing, unbound feet are both a blessing and a curse.
Napoli's writing is somewhat spare, and yet she conveys just enough detail to immerse us in this ancient Chinese culture. We may find it shocking to learn that the practice of foot binding did not completely die out until the early 20th century. This shows us just how powerful these beliefs regarding beauty and social status were.
Teens will empathize with Xing Xing's struggle to please her selfish stepmother and stepsister. They will also admire her strength of will as she honors her parents' memory and searches for more than her current life offers. Even adult readers will find themselves rooting for Xing Xing in the end.